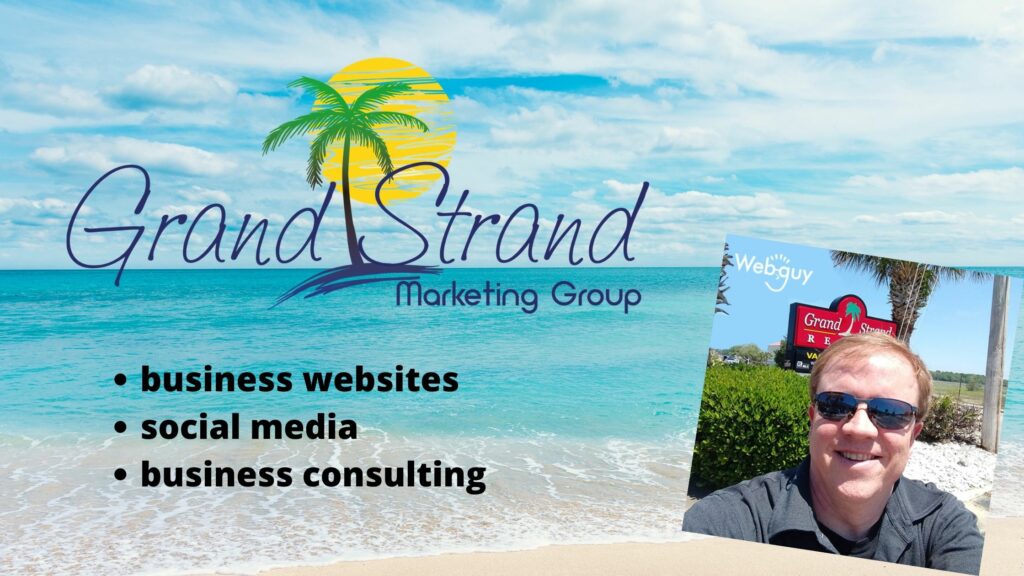 Grand Strand Marketing Group is a small business marketing and consulting company located in North Myrtle Beach, SC. North Myrtle Beach is part of the area known as the Grand Strand. The Grand Strand is an area of beaches that stretch from Little River to Georgetown in South Carolina. The biggest city is Myrtle Beach. The majority of our business clients primarily do business in the North Myrtle Beach area. We are serving business clients in the following industries:
Real Estate Sales
Property Management
Beach Music Entertainment
Restaurant and Dining
Golf Packaging and Promotion
Our services include:
Website Design and Development
Brand Concept and Development
Digital Communications
Advertising Placement ( Digital and Print)
Graphic Design
Marketing Plan
Business Consulting
Traffic Generation
Lead Generation
Event Planning and Promotion
We also help Shoppers find the Best Value at the Beach!
Whether you live at the beach or visit North Myrtle Beach for vacation or work, we can help you find some of the best values in the Grand Strand. If you are looking for deals, we can help! You will find great values and offers at the websites listed below. If you have any questions, don't hesitate to ask us!